WordPress is the most commonly used CMS globally. Many bloggers consider it for starting their blogs or other websites. Its user-friendly interface makes it easy for all to manage the website without the need of coding skills. But many use the self-hosted WordPress platform (wordpress.org) instead of hosted WordPress platform (wordpress.com) to host their WordPress website. But hosted WordPress platform has many disadvantages as below:
Disadvantages of hosted-WordPress (wordpress.com):
You are not allows to install or use WordPress plugins. You will have to join the VIP program by paying some amount and then only you can use the plugins.
Custom themes can't be used which are provided by WordPress.com. Even if you want to change the color of your theme, you will need to upgrade your account.
Since your website is free, they place their own ads on your website. To remove the ads, you will have to upgrade your account.
You can't sell ad space on your website if there are less than 25,000 monthly page views. If you place ads after touching that number, it is compulsory to share 50% of your ad income with WordPress.com
You can't analyze your website statistics as it is not allowed to setup analytics and tracking on your website.
WordPress.com can delete your website at any time if it thinks that your website violates their Terms of Service.
If you require unlimited website space, you will need to buy their Business Package that costs $299.00 per year.
While self-hosted WordPress platform is completely opposite to the hosted WordPress platform. The only thing you need to do is buy a managed WordPress hosting plan from a hosting provider.
With managed WordPress hosting, you will give your website management responsibility to the web host. This will help you to concentrate on your business growth. Selecting the best WordPress host for your blog or website is very difficult since there are many hosting providers in Australia that offer managed WordPress hosting. But to make your work easy, I would recommend the best WordPress hosting Australia for bloggers in Australia – MilesWeb.
A Short Intro to MilesWeb
MilesWeb was started in 2012 to cater the businesses with full-fledged web hosting solutions.  The company was started with an aim to help the businesses with fast, reliable and cost-effective web hosting solutions.  Their team is well-experienced in the web hosting niche and offers round the clock customer support to all.  They have adopted the cutting-edge technology to stay ahead in terms of performance and security for successful business growth.
They offer wide range of hosting solutions such as shared, dedicated, cheap VPS hosting, WordPress, cloud, reseller, etc. Their managed WordPress hosting is popular among the bloggers as it offers all the features required for the blog. Also, they are proud promoter of WordPress.
Managed WordPress Hosting Plans
They offer two types of managed WordPress hosting plans – WordPress Hosting + Lifetime Free Domain and WordPress with Jetpack Premium / Professional Plugins.
WordPress Hosting + Lifetime Free Domain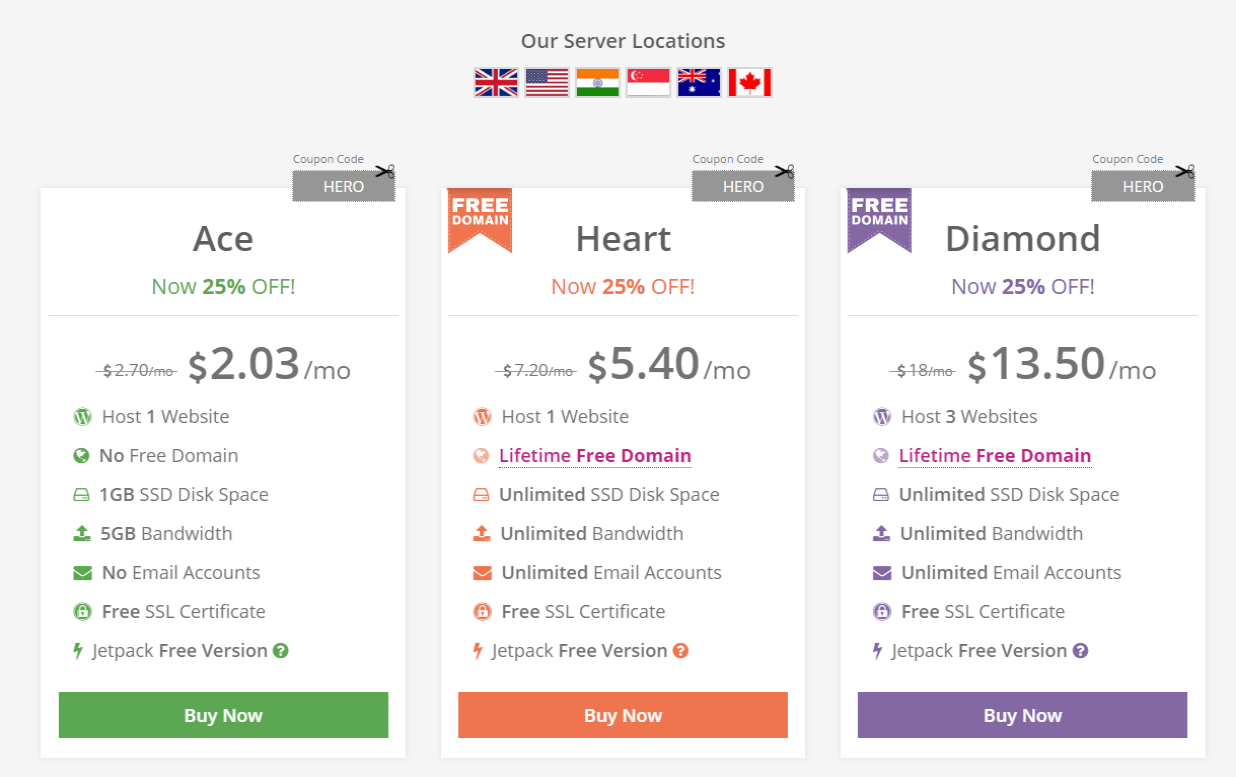 WordPress with Jetpack Premium / Professional Plugins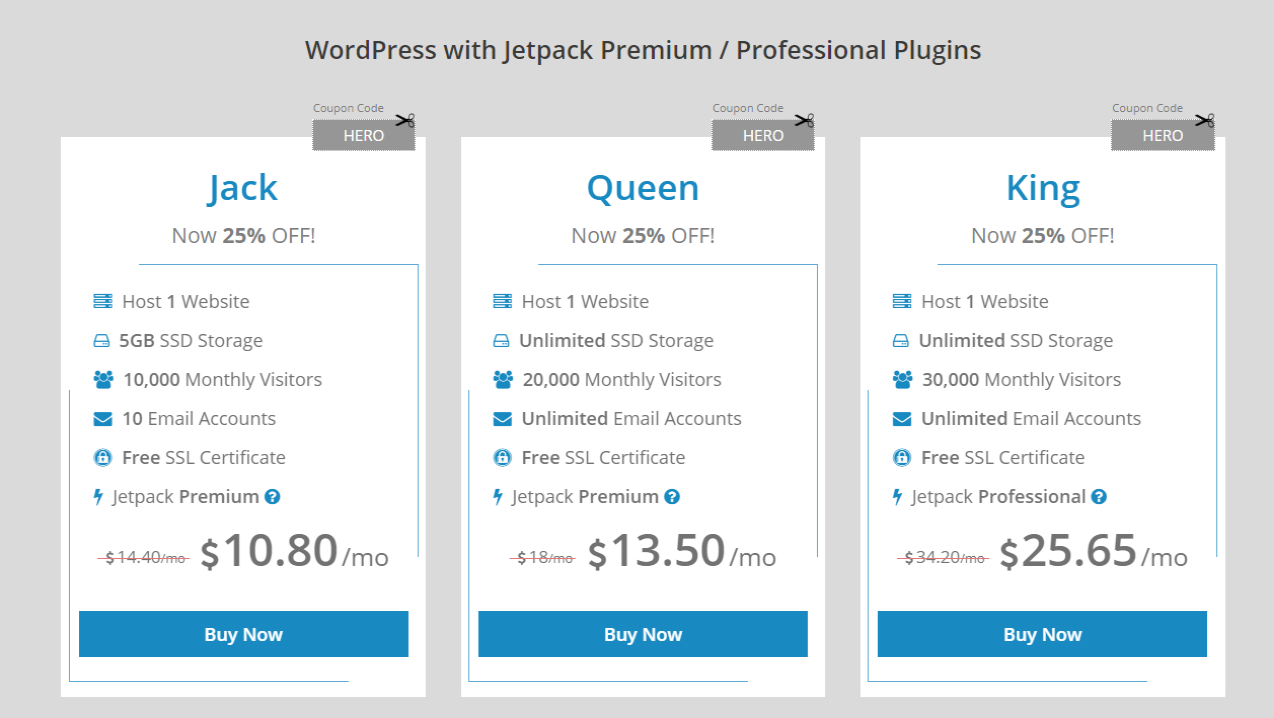 Managed WordPress Hosting Features
Lifetime Free Domain: They offer one free .com domain with their every new Heart and Diamond plan purchase for 1/2/3 years. You don't need to pay for the domain until your web hosting plan is in active status.
Automatic WordPress Updates: They understand that your WordPress site needs to be update regularly to prevent it from hackers or attacks. Therefore, the software at the backend of your website checks for the updates and ensures that those are installed on your website automatically.  You don't need to manually do anything for it.
SSD Storage: The traditional HDD drives hamper the performance of your website. So, they offer enhanced SSD drive storage which used flash memory for faster storage and improving the performance of your website.
SSL Certificate: SSL plays a vital role in securing your website's data which is transmitted between you and your visitors. It also helps in building the trust among your visitors. So, they offer free SSL certificate for your website.
WordPress Preconfigured: Since you get WordPress preconfigured for your website, your website management becomes very easy. It is installed with the use of certified themes and plugins to help run the website optimally.
Fast Provisioning: You get ultra-fast and scalable hosting for your WordPress websites. They offer scalable cloud infrastructure that helps in launching cloud instance with just a few clicks and helps your next website to launch in few minutes. Other features such as SSD hardware, server caching, PHP 7 and HTTP/2 support also help your website to perform with a high speed.
Secure Email: You are offered with email accounts for creating multiple email addresses with IMAP/POP/SMTP accounts. Additionally, you get unlimited support for mail forwards, autoreponders and email aliases.
Jetpack: Jetpack allows you to display high-quality ads on your website, auto-update plugins, share and reshare posts on social media automatically,   auto-updating of plugins, website security by spam filtering and malware scanning, etc. Basically, it helps in hassle free designing, securing and marketing of your website. They don't charge you extra for this feature as its already included in their plans.
Technical Feature of WordPress Hosting
Cloudflare Railgun: Railgun uses a wide area network (WAN) optimization technology and ensures a rapid connection between your web hosting server and Cloudflare CDN.
HTTPS By Default: All the websites hosted on their servers are automatically configured with HTTPS as security is the main concern of any website.
GZIP/Brotli Compression: This increases the delivery time for sites of all sizes by reducing the amount of data sent from your server to the visitor's browser. It also helps in decreasing the load on the server.
SFTP Access: When the plain FTP access is used to transfer files it is not encrypted and might lead to loss of files. So, they offer SFTP access which ensures file transfer is done in a secure way between two networked hosts. The remote file system can be managed by helping the applications to restart the interrupted file transfers, delete remote files and list remote directory content.
WP-CLI: It is also called as the WordPress Command Lined Interface to interact with your website via the command line or programmatically. They allow usage of commands such as wp-profile and wp-doctor.
Dedicated WordPress Support: They have a special team to resolve the issues on your WordPress website. Their team is expert and available 24/7 to help you.
Daily Backups: They ensure that a daily backup of your website is taken every 24 hours, if you have purchased their Jack/Queen/King plan. You can also restore the backup free of cost.
CDN: The Cloudflare CDN helps in expanding the reach as performance of your website, ultimately improving the experience of your visitors globally.
Cloning: You can test the changes to be made on your website on the clone of it. This helps to identify the changes required and then make them live on your actually website. You can easily clone your website with a single click cloning tool.
Server-side Optimizations: They offer web server caching, setting cache headers and enabling gzip compression to help reduce the server side load per visitor.
Caching: You need to clear your WordPress site cache regularly to help reduce the load time. They offer a caching tool for this that discovers the data frequently and makes it ready to go whenever the website is requested.
Data Center Location: They offer server locations in Australia, India, US, UK, Canada and Singapore.
MilesWeb Pillars
24/7 Customer Support: MilesWeb team is available 24/7 to help you via live chat, email and phone.
99.95% Uptime Guarantee: The make sure your website remains up every time the visitor browsers it by offering 99.95% uptime guarantee.
30 Day Money Back Guarantee: You can claim for the refund, if you aren't satisfied with their service only within 30 days of service purchase.
Concluding the Review
You can see that MilesWeb follows their aim of customer satisfaction strictly by offers the significant features required for your WordPress site at an affordable cost. So, don't miss the chance to go with MilesWeb for hosting your blog in Australia.